Developing permanently affordable housing projects in Brussels for people with limited means, Community Land Trust Brussels (CLTB)  works to ensure  the prevention of speculation based rising market prices.  With numerous homes already finished and many more in the plans, the Community Land Trust Brussels has managed to create an instrument that helps low-income families access home-ownership.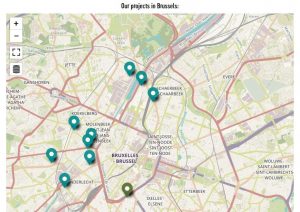 In this exclusive interview, Joaquin de Santos summarizes the historical roots of anti-speculative real estate development and community-led housing. He explains how the CLTB has adapted the original model, and how they see themselves as part of the commons movement.
He also shares his excitement about the gE.CO project and what he feels the future holds for the regeneration of urban voids.
The CLTB is a proud partner in the gE.CO project-contributing to the development of our digital tools through their experience and expertise.